Read on if you aren't afraid of some gleeky gossip! Who knows if its true or not...
Michael Ausiello claims that the original draft of the post-Super Bowl episode didn't include Kurt or Blaine, Gasp!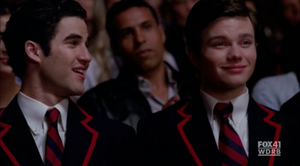 "It definitely made me a little nervous that they were having a huge episode without my character, to be sure," Chris Colfer confessed. "But they did squeeze us in. We're in it for, like, a minute, but it's a very happy minute." The Golden Globe nominee goes on to admit that life on the Glee set has been a little "odd" since his character left McKinley High for the far more inclusive Dalton Academy. "It feels like I'm on a different show," he says. "It's kind of lonely to be honest, because I don't have Amber [Riley] there with me. It's weird. I feel like I'm a guest star."
Ausiello also points to a new couple in McKinley High and I am all for it, lol! He writes "Rumor has it the show's Valentine's episode will feature a flashback to Puck and Lauren Zizes's infamous seven minutes in heaven. And as he previously raved, it most definitely rocked his world."
And when asked when Mercedes might be getting a partner, Ausiello revealed, "Not in the near future. In fact, there's a scene in Valentine's episode where Mercedes gives Rachel a big speech about the advantages of being single. Apparently, while all of her peers were knee-deep in romance drama, Mercedes was focusing on herself."
What do you think Gleeks? Is this a bunch of hogwash or do you think Ausiello is on to something? I can't wait for the new episode!